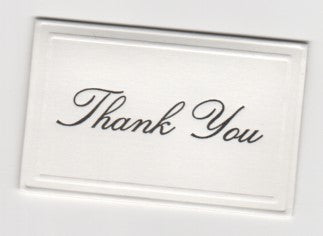 Labels, Tags and Enclosure Cards: Gift Enclosure Cards & Individual Thought Cards / Enclosure Card Rack (4 Cards)
---
Don't send customers down the street to finish a gift purchase. Offer a simple Embossed Enclosure Card.
Eight greetings to satisfy any gift giving reason.  
Attractive Black Compact Four Card Display Rack.
You may purchase the individual theme Enclosure Cards in packs of 10.
Back of card comes with a peel and stick strip feature.